Sponsors
The list of sponcors will be filled as we receive information from our various contributors to the conference. We solicit support from funding agencies and other organizations that will help in the success of the meeting and contribute to funding local and travel expenses of participants as well as other conference expenses.
Department of Physics

University of Crete
University of the Aegean

University of the Aegean
Institute of Electronic Structure & Laser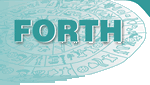 Foundation for Research and Technology - Hellas ( FORTH )
National Center of Scientific Research "Demokritos"